Milko Usb (National Card Reader) is a 100% domestic smart card reader developed by Udea
Elektronik. If you have an e-signature or financial seal, you can use your Milko for transactions such as e-government login, e-invoice, e-ledger notifications.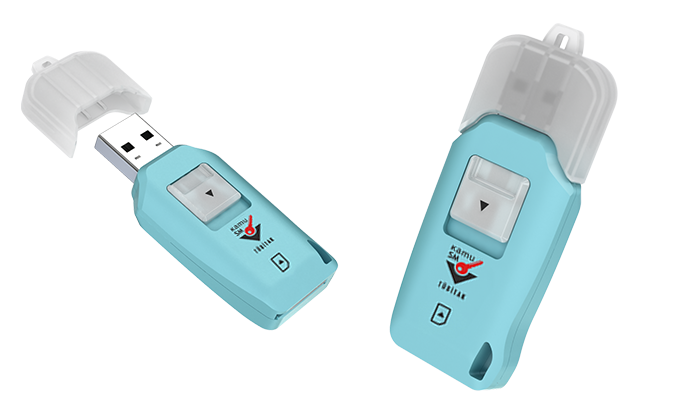 GENERAL DESCRIPTION
Thanks to its innovative design, Milko Usb can be used with SIM(ID-000) sized smart cards.
SIM-sized cards are commonly encountered as electronic signatures and financial seals.

GENERAL FEATURES

Plug and Play, CCID compliant


T BİTAK BİLGEM software compatibility


AKIS application compatibility


Short circuit protection between contacts


ID-000 size cards

Color Option


Covers that cover the USB port


Smart card type autodetection


3 years warranty

TECHNICIAL SPECIFICATIONS
Speed
12Mbps Reader Connection Speed
Card communication speed up to 826Kbps
<1.5sec signing speed (T BİTAK BİLGEM test result)
Contact interface durability
10,000 inputs
USB Port
USB 2.0(USB 3.0,USB 2.0 & USB 1.1 Backwards Compatible)
USB Type A Metal Connector
Operating Conditions
USB Power Supply 5V DC (wireless) Max. 60mA
MTBF
500,000 hours
Operating Conditions
0-70  C, 10% – 90% Humidity
Compatibility
AKIS V1.2, V1.2.1, V1.2.2 and V2.2.8 cards
SLE66Cxxx, SLE78Cxxx, P5CCxxx, UKT2xxx cards
1.8V, 3V, 5V smart card support
EN60950/IEC 60950, ISO 7816, CE, PC/SC, CCID, RoHS Smart Card, ISO7816 Class A,B and C (1.8V, 3V,5V),T=0 and T=1
Operating System Support
Microsoft Windows Vista, Windows 7, Windows 8, Windows 8.1, Windows 10, Windows Server, Linux, MacOS, Android™ 5 and later
Dimension
63.2mm (L)   25.0mm (W)   9.9 (H)
Standards and Certifications
ISO7816, PC/SC, CE, Microsoft WHQ: Microsoft Windows
products, RoHS